LED Pad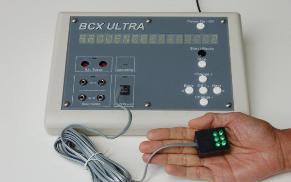 Optional Accessory (BCX ULTRA Frequency Instrument)
SPECIFICATIONS - L.E.D. (each)

LIGHT OUTPUT

LIGHT WAVELENGTH

LIGHT SPECTRUM

OUPUT POWER

LIFE EXPECTANCY

12,000 mcd. (each)

660 nm. (visible)

Near Infrared

20 mw.

80,000 - 100,000 hrs.
SPECIFICATIONS - LED Pad (5 - L.E.D.S)

OUTPUT MODE

INPUT FREQUENCY

INPUT VOLTAGE

INPUT CURRENT

PENETRATION DEPTH

Pulsed

1 Hz. - 10 KHz.

6 Volts

240 ma.

1 - 1 1/2 inch
The LED Pad is a Phototherapy Instrument, that is an invaluable AID to your HEALTH and WELL-BEING! It has 6 - ULTRA HIGH-INTENSITY Light Emitting Diodes (L.E.D.'s), which SIMULTANEOUSLY emit a Monochromatic 660 nm Red Light Beam. This SPECIFIC Light Frequency has been found by Health Researchers and Practitioners to have a POWERFUL STIMULATING Effect on the Cells of the Body. This Effect is initiated, when the Monochromatic Red Light Waves from the LED Pad STIMULATE the Cell's Photoreceptors, and then STIMULATE the DNA to START the "HEALING" Process! The LED Pad is connected to the BCX ULTRA Frequency Instrument and pulsed at SPECIFIC Frequencies (see Frequency/Pulse Rate Chart 1) for particular OVERALL Effects.

The LED Pad is a Laser-Like Device, because it emits a Monochromatic (Single Frequency) Light Beam like a Laser (and unlike MOST EVERY other Light), but because it does NOT also emit Coherent (In-Phase Waves) Light Beam, it's NOT an ACTUAL Laser. Researchers have found though that the MOST IMPORTANT Factors with either Light Therapy Device is the Monochromatic Light, Power and Exposure Time.

The LED Pad has a Pulsed Light Output, and this Phototherapy Mode is explained in the OUT-OF-PRINT Book entitled, "Therapeutic Effects Of Monochromatic Red Light - Reference Manual".
OVERALL EFFECTS:

REDUCES Pain, Swelling,
Inflammation & Irritation

STIMULATES Endorphins

STIMULATES Serotonin

STIMULATES Healing Process

REDUCES Mutated Cells

ACCELERATES TREATMENT OF THE FOLLOWING:

Muscles
Tendons
Ligaments
Articulations
Bones
Nerves

Strain & Stress
Pain & Inflammation
Spasms & Knots
Bruises & Contusions
Blisters & Hematomas
Swellings & Tears

Open Wounds
Scar Tissues
Arthritic Pain
Muscle Atrophies
Cartilage Wear
Minor Fractures
Construction: 1 - Telephone-Style Plug, 1 - 8 ft. 4-Cond. Cable, 3 - Mini-Circuit Boards, 4 - Transistors, 6 - Resistors, 5 - ULTRA HIGH-INTENSITY Red Light Emitting Diodes, 1 - Stainless-Steel Washer, 1 - Plastic Case (clear red - 4 3/4" L. X 3/4" D.), and 3 - Plastic Caps.

Includes: 1 - LED Pad, Operating Instructions, Frequency/Pulse Rate Chart 1, Frequency/Pulse Rate Chart 2 and 90 day Warranty.

The LED Pad is also AVAILABLE in a GREEN L.E.D. Version. The GREEN L.E.D. has been reported to HELP the Body to ELIMINATE mutated Cells and Tumors MORE RAPIDLY than the RED L.E.D., especially when used at Pulse Rate No. 5 (see Frequency/Pulse Rate Chart 1)!!

Complete Specifications + Catalog (Instrument & Accessories)


If You're Interested In:
Purchasing The LED Pad, Then Please CLICK HERE.
Ordering The LED Pad, Then Please CLICK HERE.
Knowing MORE Information About BIOPHOTON LIGHT THERAPY, Then Please CLICK HERE.
Seeing ACUPOINT Books & Charts, Then Please CLICK HERE.
Seeing ALL Of The Web-Pages Involving The BCX Units And Accessories, Then Please CLICK HERE.


Revised 10/1/13