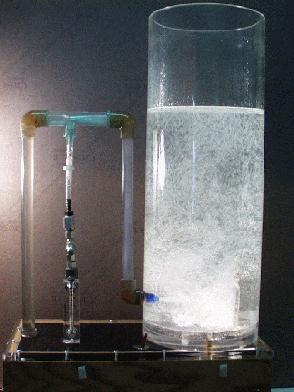 The MazzeiŽ Venturi Injector Makes The Best Ozone Systems - BETTER!
Independent test have now proven that Ozone gas injected into water streams through the trouble-free MazzeiŽ Injector, produces a significantly higher transfer of Ozone into the water than previously used methods. This significantly "higher" transfer is accomplished by the creation of "Micro-Bubbles" of Ozone that are intensely mixed into the Shower Water stream.
As the Ozone enters the Shower Water stream, it implodes into small "Micro-Bubbles" which are aggressively mixed with the water. These "Micro-Bubbles" provide an exceptionally large surface area in which Ozone can transfer efficiently into the
Shower Water stream.