Dr. Schulze's SuperFood Plus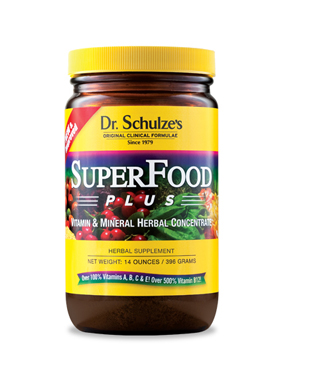 An Organic Garden In a Jar!
---
SuperFood Plus is a PERFECTLY balanced blend of concentrated foods specifically formulated to supply your body with WHOLE food source Vitamins, Minerals, Amino Acids and essential trace nutrients, ALL 100% Organically Grown! ALL food sources have been carefully selected and studied and are FREE of pesticides, insecticides, inorganic fertilizers, fungicides, sulfurs, and antibiotics.

SuperFood Plus is phytomin-based nutrition, speeding the nutrients to your bloodstream in as little as 15 minutes! Added to your favorite juice or blended shake, SuperFood Plus provides 2-5 times the vitamins and minerals you need for an ENTIRE day! Less than 1 gm. fat, ZERO sodium. SuperFood Plus is a Vegan/Vegetarian product, since it contains NO animal ingredients.

SuperFood Plus contains:
Spirulina Blue-Green Algae is the most highly concentrated, nutritious food on the planet. It is the highest Natural source of COMPLETE protein known (75%)! American Botanical Pharmacy uses the only Organically Grown Spirulina in the world - from Hawaii, where it is fed by pure, volcanic nutrient rich waters pumped from 2,000 feet below the ocean's surface and nutured in the brilliant phytochemical producing light of the tropical sun. Hawaiian sun-fed Blue-Green Algae has the highest concentrations of Beta-Carotene, Alpha-carotene, and Lycopene in the world!

Chlorella is second only to Spirulina in food value. American Botanical Pharmacy cracks the cell walls of its Chlorella to make the nutrients more digestible and available.

Alfalfa, Barley and Wheat Grass are miracle Healing Grasses, that are rich in vitamins, minerals, enzymes, phytochemicals, and chlorophyll.

Purple Dulse Seaweed has the richest assimilable minerals in the world! It contains each and every ONE of the minerals and trace minerals found in the world's oceans and the earth's crust (over 1,000 mg in every 3 1/2 oz.)!

Beet Root and Spinach Leaf are MARVELS at converting inorganic elements into highly assimilable plant minerals! Famous as blood cleansers; rich sources of Organic Iron, Calcium and Vitamin K.

Rose Hips, Orange and Lemon Peel are revered as the ULTIMATE sources of Vitamin C! Nature's best sources of Pectin, proven to remove Heavy Metals (i.e.-Mercury, Lead, Cadmium, etc.) and radioactive contamination (Strontium 90) from the body.

NON-Active Nutritional Yeast is the absolutely richest source of B Vitamins and second highest source of COMPLETE protein (50%) in nature. American Botanical Pharmacy uses yeast heated high enough to COMPLETELY destroy any yeast activity, but not enough to lessen the B Vitamin content. TOTALLY safe for persons with Candida Albicans overgrowth or on Yeast-Free diets.
We are currently entering a new era of nutrition. It is NO long a matter of how many milligrams you take of a particular nutrient, but how much of what you are taking is actually getting into your bloodstream. Even more important, what are these vitamins and minerals made from and do they have toxic side effects? If you are like me, and are horrified by this information, then try SuperFood Plus.


Let's STOP eating toxic chemicals, animal wastes and rocks and get BACK to eating food, Dr. Schulze's SuperFood Plus!

SuperFood Plus is a Trademark of American Botanical Pharmacy.
Dr. Schulze's SuperFood Plus is backed by a 30 Day Money Back Guarantee!

---
If You're Interested In:
Reading MORE Information About SuperFood Plus, Then Please CLICK HERE and HERE.
Ordering SuperFood Plus, Then Please CALL American Botanical Pharmacy (800-437-2362).
Making Your Own SuperFood Plus, Then Please CLICK HERE.
Reading MORE Information about Dr. Richard Schulze, His Herbal Formulas and Natural Healing Methods, Then Please CLICK HERE.

Revised 7/5/12